HyperPay advocates transparency and self-discipline and is gradually opening up with the idealization of transparent and public supervision mechanism. The data of the HC/HX double rewards activity during 2019.1.9 15:00:00-2019.1.10 14:59:59 (UTC+8) is now reported as follows.
At midnight of January 10th, Linux version of HX node encountered an irreversible error and thus starting to miss blocks during block production. It was resolved at 10/01//2019 1:00 PM(UTC+8) using the newly released 1.2.7 Linux version.
Thus, HyperPay team makes the following compensation towards the incident:
As of wallet recovery, the total number of missed blocks for "Hpyhxwallet001" is 272, that of yesterday is 60. Therefore HPY subsidizes 212 blocks miss with 2756 HX.
As of wallet recovery, the total number of missed blocks for "Hpyhxwallet002" is 140, that of yesterday is 17. Considering the fact that the night shift human error to alter the node stake-weight adjustment, therefore HPY subsidizes a total of 383 blocks counted as miss with 4979 HX.
For the 1st round investors, total investment is 343541.1474 HC, 300000 HC was pledged in HX and 43541.1474 HC for PoS mining pool reward. 300000 HC has stored over 24 hours. The pledged assets receiving address of HX citizen is hpyhxwallet001 and the pledged weight is 300000 HC.
Reward: 2301.62074 HX
Compensated amount: 2756 HX
Total amount: 5057.62074 HX
For the 2nd round investors, as of this announcement, the total investment has reached 72,727.82573 HC, of which 31,727.82573 HC is for PoS mining pool and 690,000 HC pledged for HX rewards. 646728.49120005 HC has been stored for 24 hours. The publicity of citizen address is as follows:
hpyhxwallet001- 140000 HC pledged
hpyhxwallet002- 540000 HC pledged
Reward: 5050.71976 HX
Compensated amount: 4979 HX
Total amount: 10029.71976 HX
Take compensations into account, now HX return rate is:
1st round: 0.014722023193316 HX / 1HC / day.
2nd round: 0.015491474236585 HX / 1HC / day
* we take reference of HPY holder weight ratio, discrepancies may arise from other pledged accounts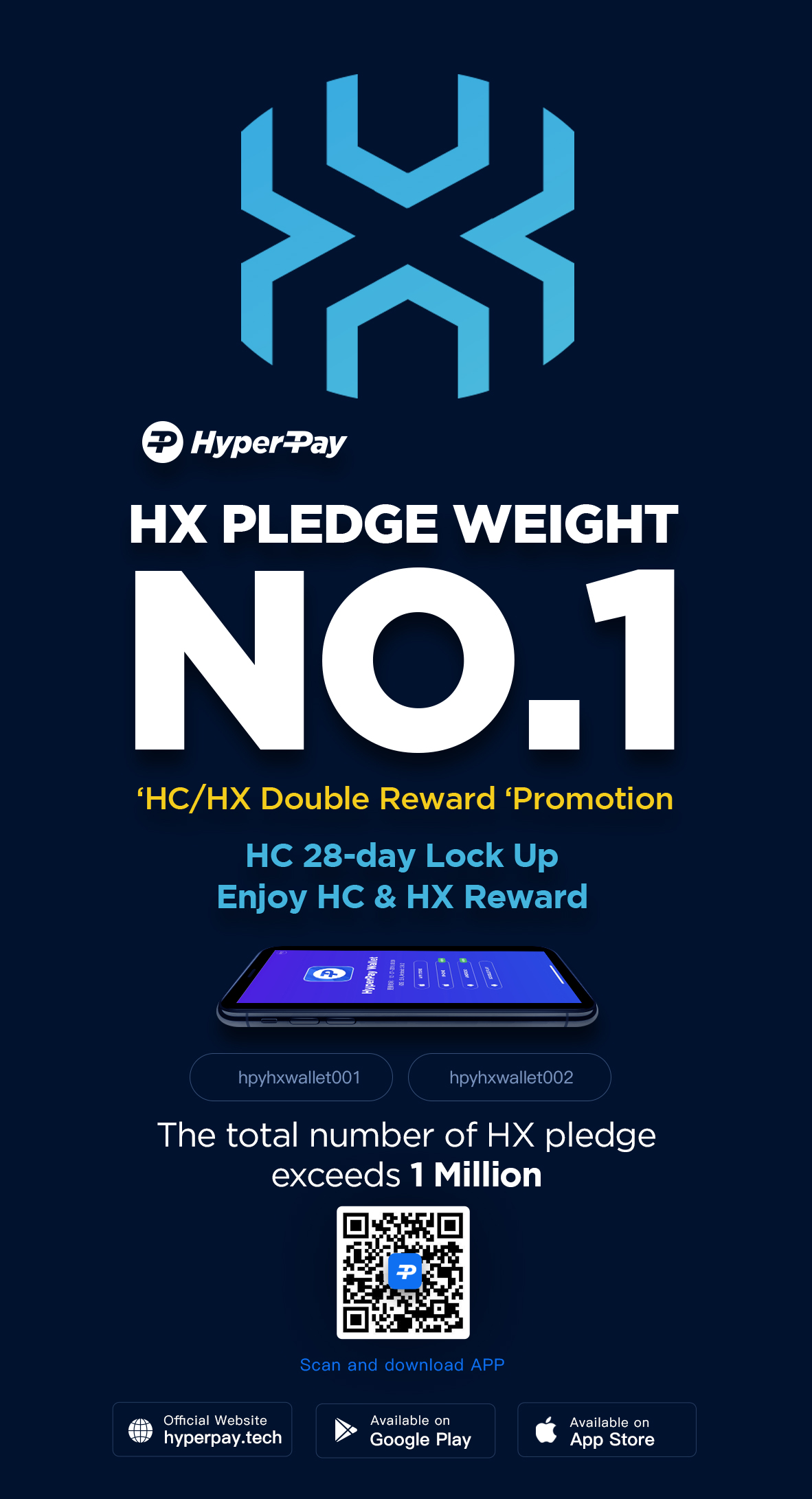 HyperPay would return 99% reward to holders proportionally, leftover 1% will be used for community operation. Since the launch of HX, HyperPay has always adhered to the philosophy of trying to create greater value for users. In order to protect the interests of users and reduce the risks caused by fluctuations, HyperPay pioneered the HC/HX dual revenue model. The principal of users' HC is divided into two parts for HX and HC mining respectively, so users can obtain HC guaranteed reward and additional HX gain.
At the same time, to reassure users, HyperPay publicize account and mining address to all. Up to now, more than one million HC pledged weights in these two mentioned accounts and we're on the top 2 in the whole network. HyperPay appreciates your trust and will provide you with more convenient services. More revenue data will be released, thanks for your attention!
HyperPay team