To celebrate the release of HyperPay3.0 and thank our long-term supporters, HyperPay wallet will airdrop 15 crypto currencies (including HCASH, QTUM, DASH, DCR,USDT ) to HPY token holders from August 10, 2018 to August 16, 2018.
Released on August 6, 2018, HyperPay 3.0 is the first "Duo-wallet" that integrate the on-chain and off-chain ecosystem. With other functions like BitEarn, PoS Pool and LeekICO Integration, it will meet users' digital asset management needs in one app.
Snapshot time:
16 August 2018,9:00pm (Beijing)
What you need to do:
1.Deposit your HPY tokens in our wallet during the event(August 10, 2018 to August 16, 2018).
2.Make sure there are at least 1000000 HPY tokens in HyperPay wallet before the snapshot.
3.Please allow 2 days for the transfer of HPY tokens and do not deposit or withdraw tokens within 2 hours before or after the snapshot time. Usually it takes half hour for the transfer to be completed. Contact our customer service if you encounter any transfer issue.
What we will do:
We will do a snapshot in our wallet and distribute proportionally to the accounts that hold 1000000 HPY tokens or more. All the distribution will be completed within 7days after the event.
Previous HPY airdrop Review:
16 March 2018,12:00am (Beijing): HPY Mega Airdrop Round 1, "Thanks for your supports, airdropping 11 tokens!"
26 April 2018,13:00pm (Beijing): HPY Mega Airdrop Round 2, "Celebrating ZB.com Listing! depositing HPY tokens to get 20 crypto currencies."
All rights reserved to HyperPay.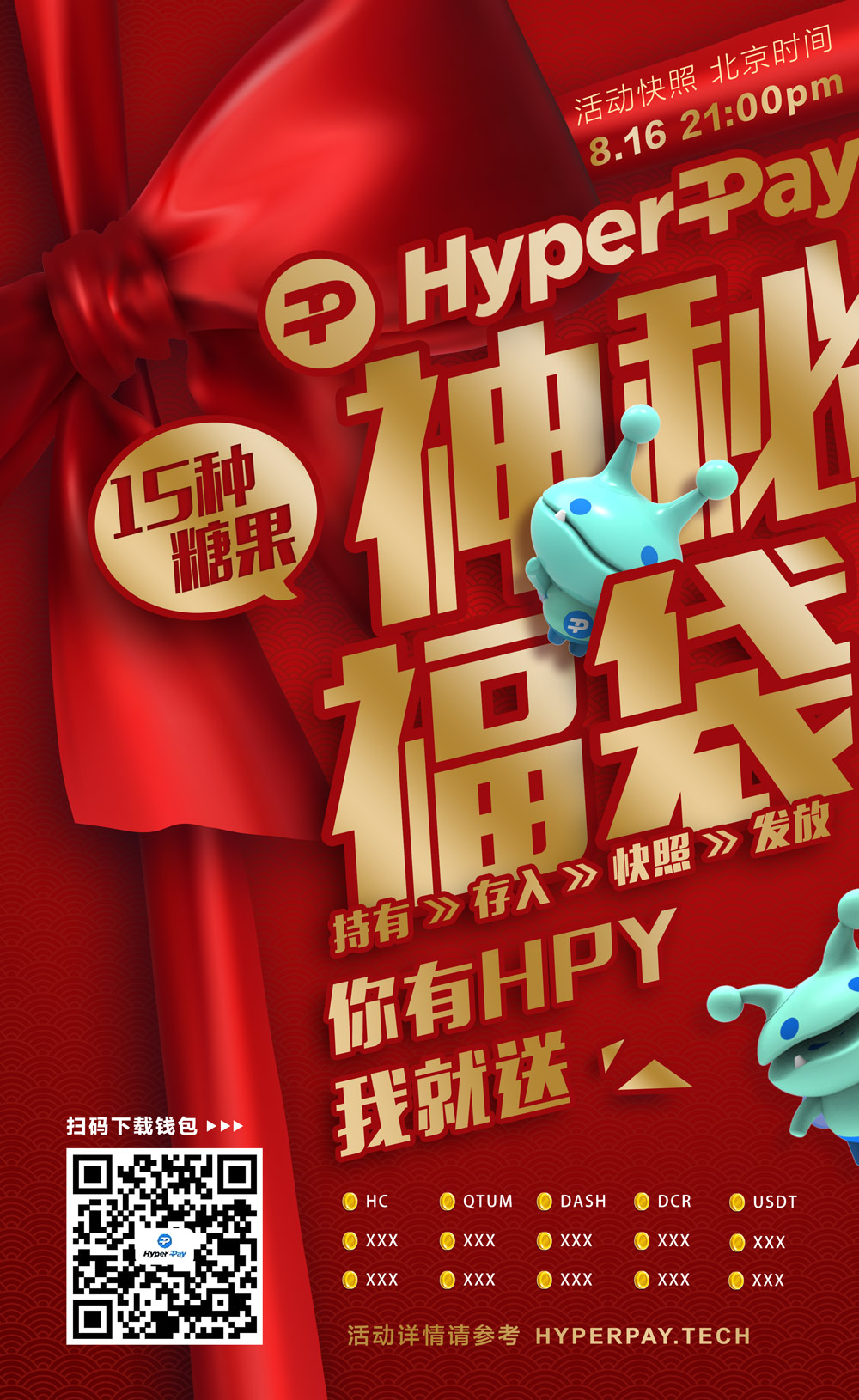 HyperPay Team